I've been looking around for themes for cross stitch patterns. I've found some interesting places to look.
In my instructable on making cross stitch patterns, I described how to make patterns from photographs, so I think I'll leave that for now.
I've been looking more into pixel art. Motifs made in low resolution fit cross stitching, and mosaic, very well. There are a few interesting places to look for those.
One first thing, though. If you are using Firefox (I hope you are) and want to look at pixel art, then "Ctrl-+" and "Ctrl-0″ are your friends! Use that to zoom in the page (and reset zoom) so that you don't have to squint too much. Unfortunately Firefox 3 blurs the images on zoom, but it's still useful.
UPDATE: The FancyZoom feature my blog uses seems to resize larger images to fit the screen, so they blur. You can use [Ctrl+Click] (or [Cmd+Click]) to open them in a new window/tab in full 1:1 size.
The first is video games. The older video games have great low resolution art made with just a few colors. You don't have to be into retro gaming to appreciate the themes. Here are a few examples (I just love the little skyline in the "the Trolls in Crazyland"!):
SNES games have more colors, but you can always reduce later. Or not.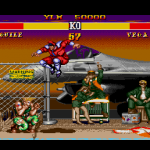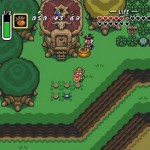 There are some great sprites that can be extracted from these games. Most of the work has already been done, though. Just google e.g "mario sprite sheet", or look in the Sprite Database where I found these. Just look at the treasure chests and bookshelves, and those animals!
Those are from "Zelda III" (SNES), "Chrono Trigger" (SNES), "Dragon Quest – Caravan Heart" (GBA) and "Catz" (GBA)
There are also, of course, great art in older PC games. There are a lot of games, but this is from Monkey Island, Heroes of Might and Magic III, and Settlers II.
Another really great resource is online pixel artists. There are a lot of people that make "isometric pixel art" like these beautiful artworks. There is a LOT of things happening here that can be used individually or together.
My favorite resource right now is pixeljoint.com where users add their own pixel art and rate each others'. There are toplists and tags, and many submissions in many different styles are just great! Check these out!
Last but not least, I've been looking at text, for captions and such. There are a lot of pixel fonts with different style. One of my favorite smallest fonts is silkscreen:


But here the old computer games have mastered low resolution text. The one I tend to resort to is a shadowed NES-font (there are many other game fonts on that page):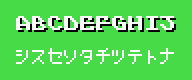 Outlined fonts also look very good in stitches: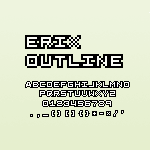 That's it for now!
When you have put together your design, look at my instructable on how to make it into a pattern for cross stitch, mosaic, perler beads, or whatever you fancy!
Have fun!